On June 2nd, 2017, Melanie Vogel set out to solo thru-hike the longest recreational trail in the world. Melanie's long-distance hike started in Cape Spear, Newfoundland the most easterly point of Canada, and will lead her trough all ten Canadian provinces and two of the three territories. She originally planed to hike to Victoria on Vancouver Island in two years, but somewhere along the way decided to include the Arctic Ocean in her hike.
When Melanie is finished, she will have solo hiked 18,000 km across Canada from the Atlantic Ocean, to the Arctic Ocean, and then to the Pacific Ocean, on The Great Trail, or as some know it, the Trans Canada Trail.
Her inspirational expedition takes her through maritime terrain, boreal forests, along the Great Lakes, the Canadian prairies, the Rocky Mountains and into the tundra and permafrost as she goes north to the Arctic.
With her choice of walking this huge country, the German born and raised adventurer is embracing Canada, to better connect to the land, its people, nature and herself.
As an ambassador for The Great Trail, Melanie wants to inspire people to get outside and discover trails in their backyard and by doing so find the connection back to nature.
Melanie Vogel is the recipient of the Royal Canadian Geographical Society's Women's Expedition Grant for 2019.
You can follow her journey on Between Sunsets and Twitter.
Thru-hiking Canada: Melanie Vogel's story
Between Sunsets - Travelling solo across Canada
---
Update 2019.12.10 » Vancouver is Awesome » This woman has been walking across Canada for 2 years and isn't stopping yet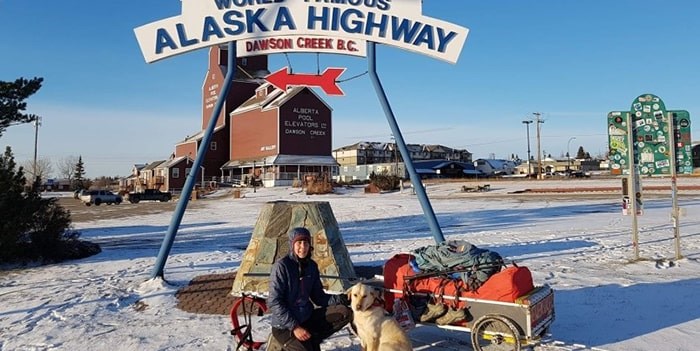 ---
Update 2020.10.18 » Dan Davidson, of the Whitehorse Daily Star, writes that Melanie might spend the winter in Whitehorse as she is restricted from entering the Northwest Territories and reaching  Tuktoyaktuk and the Arctic Ocean due to the coronavirus pandemic.