Officially: The Federal Republic of Somalia
Capital: Mogadishu
Facts
Population: 14.74 million
Major languages: Somali, Arabic, English, French, Italian
Major religion: Islam
Life expectancy: 55 years (men), 58 years (women)
Currency: Somali shilling (SOS)

1 Somali Shilling (SOS) = 100 Centesimi

Electricity: 220 volts, 2-pole plugs,
Geography
Area: 637,657 sq km (246,201 sq miles)
Located in the Horn of Africa
Bordered by Ethiopia to the west, Djibouti to the northwest, the Gulf of Aden to the north, the Guardafui Channel and Indian Ocean to the east, and Kenya to the southwest.
Notes
Somalia has banned plastic bags
Somaliland
Officially it's part of Somalia, and officially the Republic of Somaliland, is a self-declared state, internationally considered to be an autonomous region of Somalia.
They have their own government, own currency, and their own visa-system.
Somaliland is considered safer that Somalia.
Visa is required for Somaliland

Can be obtained at the Somaliland consulate in Djibouti
There is no consulate in Kenya

Resources: Wikipedia » Somaliland Portal
Safety and Security
All of Somalia is considered one of the most dangerous destinations for travellers. (2019)
Many governments strongly recommended leaving Somalia.
Likewise, warnings are given against shipping, cruises, and yacht trips in waters off Somalia.
A large percentage of the worlds refugees come come Somalia,  forcibly displaced due to the internal conflict and recurring and severe drought. Most have settled in Kenya, Ethiopia, or Yemen.
Government Advice and Consular Assistance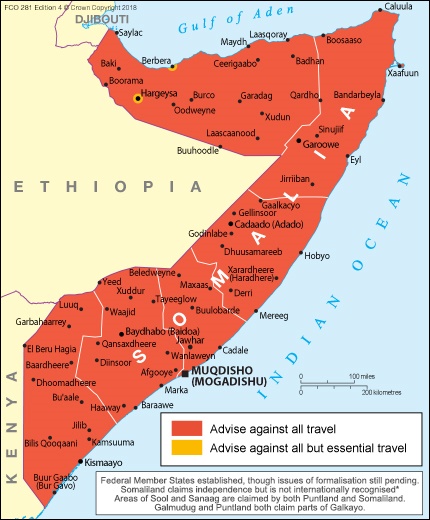 Last Updated: