Officially: People's Democratic Republic of Algeria
Capital: Algiers
Facts
Population: 41 million

Younger than 15 yo: 29.5%
65+ yo: 6.1%

Major languages: Arabic, French, Berber
Major religion: Islam
Life expectancy: 76 years (men), 78 years (women)
Currency: Dinar (DZD)
Geography
Area: 2.4 million sq km (919,595 sq miles)
The capital and most populous city is Algiers, located in the far north of the country on the Mediterranean coast.
Behind the Mediterranean coastline lie mountains and fertile plains, with the vast Sahara desert to the south
Algeria is the tenth-largest country in the world, and the largest in Africa.
Algeria is bordered to the northeast by Tunisia, to the east by Libya, to the west by Morocco, to the southwest by the Western Saharan territory, Mauritania, and Mali, to the southeast by Niger, and to the north by the Mediterranean Sea.
The largest nation in Africa, occupying 7 percent of the landmass.
The largest country in at the Arab world.
Weather
The weather is temperate with hot and dry summers

The winters are mild with some rain along the coast

Forecast:
Overland
The Algerian authorities devote considerable resources to the safety of foreign visitors.
Authorities will want to know your travel plans when travelling outside major cities and may assign police or gendarmes to protect you.
Cars per 1,000 inhabitants: 90.5
People killed in road accidents (per million inhabitants): 88.2
Safety & Security
Risk level high in some areas of Algeria, particularly within 50 km border regions with Libya, Mali, Mauritania, Niger, and Tunisia due to a heightened threat from terrorism and kidnapping.
A protest movement that began in February, 2019, is still ongoing in July 2019.
Anyone planning to visit should consider contacting their embassy or consulate in Algiers to get an update on the current security situation.
Government Advisories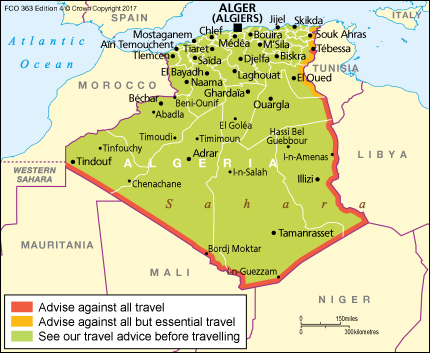 News & Notes
Last Updated: